More Dates For Your Diary
We're thrilled to inform you that we have some more whiskey tastings lined up. Life's too short not to try new things. It seems people can't wait to get in to our shop these days and showcase some of their products, needless to say, we thoroughly enjoy these tastings too and we are learning more and more every day.
Our tastings are held in an informal manner and you do not need to be a connoisseur to attend. Our hosts know what they are talking about so feel free to ask as many questions as you want.
No booking is required for these tastings, so if you happen to be around just swing on in. Management does however reserve the right to refuse admission and we urge you to taste responsibly.
Waterford Irish Whisky Tasting With Ian O Brien
Join us on Thursday October 26th where under the guide of Ian O Brien, the Waterford Brand Educator, we will be tasting 3 whiskies from the world's biggest organic and biodynamic whisky producers who are on a quest to unearth whisky's most natural flavours.
The Whiskies We Will Be Trying Are
Waterford The Cuvée Irish Single Malt Whisky
Their definitive, flagship single malt is inspired by Bordeaux's greatest chateaux, Waterford Distillery has applied the same methodology to create the ultimate in whisky flavour complexity, a genuine innovation for the spirits industry.
Waterford Organic Gaia Edition 2.1
Their vibrant new edition of an Organic Single Malt with and the only one in Ireland made with100% Organic Irish Barley.
Waterford Peated Fenniscourt Whisky
Peated Fenniscourt represents the first marriage of Irish barley and Irish peat in generations.
Teeling Whiskey Tasting With Graham Kinsella
On Friday, November 3rd from 4pm to 7pm we will be joined by Graham Kinsella, the brand ambassador for Teeling Whiskey for a tasting of some unconventional Irish whiskeys with an extraordinary spirit.
Teeling Whiskey is renowned for their vision of doing things differently and with deep roots in distilling pedigree dating back to 1782 they have shaped the Irish Whiskey landscape through the generations. Here's your chance to discover some of their bottlings.
The Whiskeys We Will Be Tasting Are
Teeling Single Grain
Master at the Irish Whiskey Masters 2021! A small batch release from the Teeling Whiskey Company. This is single grain whiskey that has been partly matured in Californian red wine barrels. In 2013 it won the award of 'Best Irish Single Grain' in the Irish Whiskey Awards
Teeling Single Malt
A great single malt that is drawn from various ages of whisky from a single undisclosed Irish distillery. The oldest malt in this dates back to 1991 and the various components have been matured in different types of barrels including Sherry, Port, Madeira, White Burgundy and Cabernet Sauvignon.
Teeling Pot Still
Discover an unconventional take on a classic Irish style of Whiskey. The first Whiskey to be distilled in Dublin in nearly 50 years, our Single Pot Still pays homage to a Dublin style made famous by the old, now closed, Dublin Whiskey Distilleries. This Single Pot Still is crafted using a recipe of 50%, unmalted spring barley and 50% malted barley. Triple distilled and matured in a combination of virgin oak, ex-wine and, ex-bourbon barrels. This is not how everyone makes Irish Whiskey – it's the Teeling way. That's the Spirit of Dublin.
Teeling Blackpitts Peated Single Malt
Inspired by the old ancient Blackpitts area just behind the new Teeling Whiskey Distillery based in Newmarket in the old Liberties area of Dublin City, this area was synonymous with many industries and in particular malting houses. Blackpitts was traditionally home to some of the largest barley malting houses in Ireland. By using smoke from peat to dry the barley during the malting process, the resulting peated malt produces a distinctive smoky taste profile which is the signature of a Peated Single Malt.
Wonders of Wood Portuguese Virgin Cask
Introducing the Wonders of Wood, a series of Dublin Distilled Single Pot Still whiskeys that has been honoured as the World's Best Single Pot Still Whiskey in 2022! At Teeling Whiskey they believe in driving the evolution of Irish Whiskey by creating unconventional and unique expressions. Their Wonders of Wood Series is part of this innovative mission as they strive to push the boundaries of flavour by using unique styles of wood for maturation.
Teeling Explorers Japanese Shochu
A fusion of Japanese and Irish cultures! This is the newest addition to the Teeling Explorers Series is the 15-Year-Old Japanese Edition! This innovative expression pushes the boundaries of Irish Whiskey craftsmanship by incorporating none other than rare Mugi Shochu casks. The final result is an extraordinary blend of Irish and Japanese influences.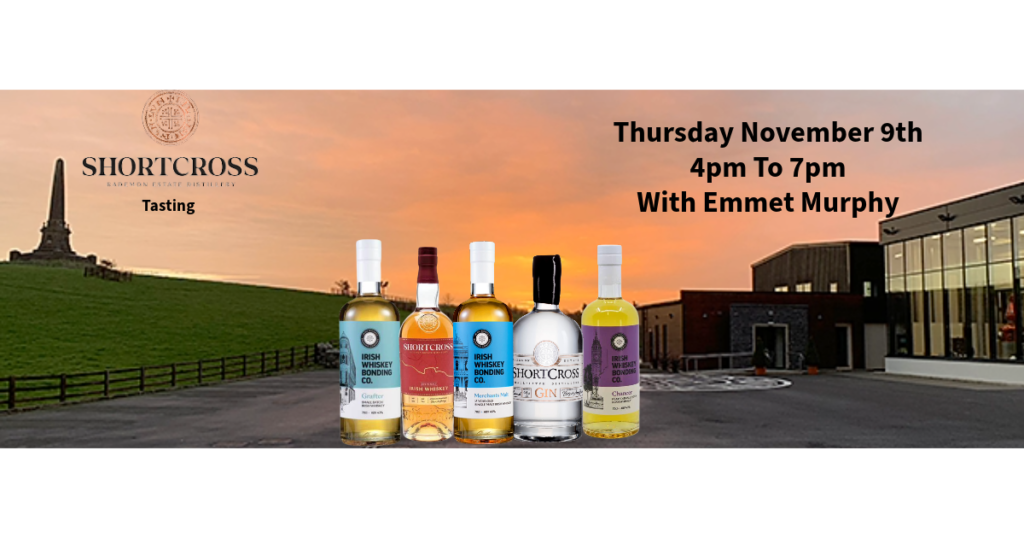 Shortcross Distillery Tasting With Emmet Murphy
On November 9th from 4pm we will be joined by Emmet Murphy, the brand ambassador for a distillery stands proud as Northern Ireland's first award-winning craft distillery and home to Ireland's Most Awarded Gin, Shortcross Gin.
Not only will Emmet have 5 delicious bottlings open on the day, one of them will be Merchants Malt and this will be it's Irish debut tasting appearance.
No booking is required for this tasting, it will take place from 4pm to 7pm. Management reserves the right to refuse admission.
The Bottles Open On The Day Will Be
Shortcross Grafter
Shortcross Chancer
Shortcross Rye & Malt
Shortcross Gin
Merchants Malt 15 Year Old
Irelands First Ever WhistlePig Tasting With Luke Boland
Make sure you save this date and join us for the first-ever in-store Whistle Pig Tasting in Ireland. This tasting will occur on Friday, November 10th from 4pm to 7pm. Luke Boland, the Brand Ambassador for Moet & Hennesey will guide you through some independent, unbound by tradition, and a world apart from other American whiskeys. WhistlePig pushes the boundaries of Rye.
.
The Bottlings Open On The Day Will Be
WhistlePig Small Batch Rye Aged 10 Years
WhistlePig kicked off their Rye Whiskey journey with the Quintessential Rye – their Small Batch Rye, Aged 10 Years - it's the one that started it all. True to our original Master Distillers' vision, it's a high Rye whiskey with a bold, spice forward whiskey that offers new layers of flavour with every year of age. And at 100 Proof, it's versatile no matter how you drink it. Ingenuity, determination, and a fearless pursuit of flavour led them here, and we never turned back.
WhistlePig Estate Oak Rye Aged 12 Years
WhistlePig's vanguard of finishing lies within their Old World Rye, Aged 12 Years. A Rye styled by Old World sensibilities at 86-proof. This whiskey is the marriage of three finishes, each with their own distinctive flavour profiles. Finished to perfection and blended into a symphony of flavor. It started as a grand experiment and ended as the first Rye whiskey of its kind, giving you Rye in all its glory.. and then some.
WhistlePig Estate Oak Rye Aged 15 Years
One of WhistlePig's oldest whiskeys, Estate Oak Rye is for the true connoisseur of Rye. It takes its name from their Vermont Estate Oak, where it finishes its long, 15 year life. 97 Points from Wine Enthusiast, one of the highest rated Rye Whiskeys of all time.
Booking Essential -
Hinch Connoisseur Collection Launch & Tasting
We are delighted to invite you to the launch of Hinch Irish Whiskey Connoisseur Collection. The evening will be hosted by their Head Distiller William Stafford and their Brand Ambassador, Terry McCartan and they will unveil their highly anticipated Hinch 5 YO Madeira Cask Finish.
The launch will take place in our cellar from 7pm to 9pm on Wednesday November 15th and booking is essential.
RSVP to spirits@thecorkscrew.ie
BOOKING ESSENTIAL - Curraghmore Single Estate Irish Whiskey Tasting With Richard The Earl Of Tyrone
An exclusive tasting of Curraghmore Single Estate Irish Whiskey will occur in Fíona's Cellar on November 17th from 4pm to 7pm. Richard, the Earl of Tyrone and CEO of Curraghmore Whiskey will host it. The event is free of charge but pre-booking is essential. This can be done by popping this free product into your basket now or by emailing spirits@thecorkscrew.ie to secure your place.
Richard will show his Curraghmore Single Estate Irish Heritage Whiskey; a rare gem in the world of Irish whiskey like no other with traceable provenance, it is cultivated on the Curraghmore Estate in the south-east of Ireland. A region considered by industry experts to offer the very best conditions for growing malting barley on the planet.