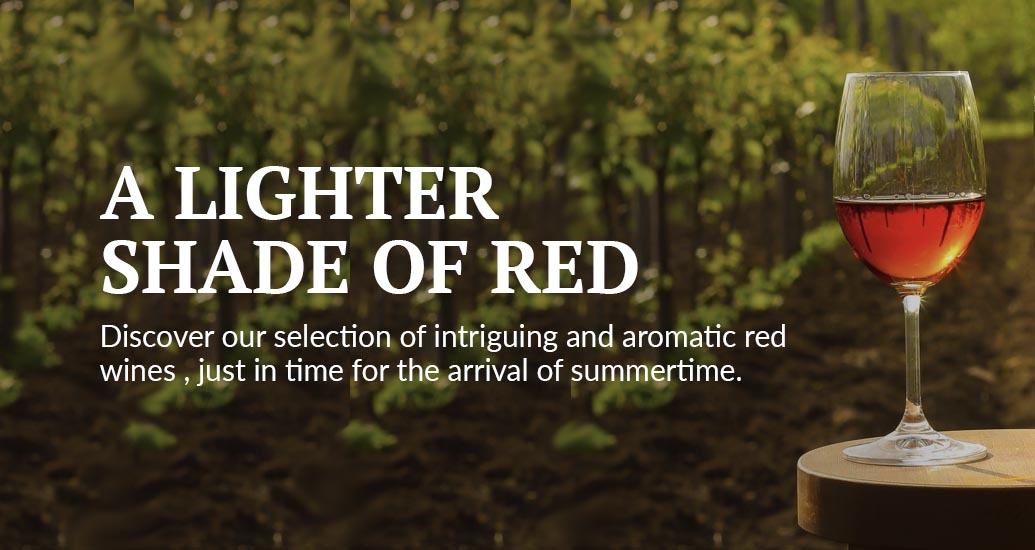 We have selected a bunch of intriguing and aromatic red wines for the arrival of summertime, so you won't have to give up red wines for your lighter summer meals.
Thanks to their crunchy red fruit, low tannins and remarkable freshness these wines are great companions for a variety of occasions. Delicious as an aperitif (especially if chilled), they will also match a wide variety of foods, from white meat to fish.
French Beaujolais is often considered the definitive light summer red, but France has a great offering of lighter red wines, like in the case of Loire Cabernet Franc.
Neighbouring Italy, with its many indigenous grape varieties, gives a great array of choice when it comes to light red wines: from Valpolicella's Corvina, which is capable of producing a crunchy lively fresh red wines, to the Sicilian Frappato, an aromatic and perfumed grape from Sicily.
Spanish regions like Ribeiro and Cataluña are producing some delicate elegant red wines from grapes like Sousón and Brancellao, Grenache and Carignan, expressing the more aromatic and elegant aspects of these varietals.
Grenache is also one of our picks for the New World, showing how this grape variety can give wines which are enjoyable young and at the same elegant and fragrant. Pinot Noir, Blaufränkisch and the South America indigenous varietal País are some other varietals we have picked for summer.


Allegrini Valpolicella 2019  €21.95 - Valpolicella has always been the everyday drink of the region around Verona. The Valpolicella from Allegrini is a fresh and pure expression of the Corvina grape variety: red ripe cherries dominate this wine, with an intriguing hint of pepper. On the palate, the refreshing acidity paired with smooth tannins make this wine very lively and quaffable, a great wine for summer.


Donnafugata `Floramundi` Cerasuolo di Vittoria 2018  €33.95 - Made in the only DOCG in Sicily, Floramundi is a blend of Nero d'Avola and Frappato grown in the region of Vittoria in the south west part of the island. Frappato is a very perfumed Sicilian indigenous varietal, that finds its ideal match in the Nero d'Avola grown here. The resulting showcases both the Nero D'Avola intensity and the Frappato refreshing and aromatic characters: aromas of black cherry and plums on the nose and floral, spicy notes of black pepper on the palate. The very soft tannins make it the ideal red for the summer, to be enjoyed slightly chilled.

Heidi Schröck Junge Löwen 2019  €22.95
Two classic Austrian varieties interweave to give the juicy 'Junge Löwen'('young lions'). The dominant Blaufränkisch grows on the top of the Rust hill, while St. Laurent is cultivated closer to the banks of Lake Neusiedl. Friendly yet elegant, this wine is busting with luscious cherry aromas and a beautiful minerality resembling the schist soils where the fruit is grown sustainably.


Pedro Parra `Vinista` Itata Valley Pais 2019  €25.95 - This wine is made by the south American indigenous grape variety País from the Itata Valley. The beautifully preserved 120-year-old dry-farmed bush vines give expressive and concentrated grapes. For this reason, Pedro takes a minimal intervention approach to the winemaking. Grapes ferment in stainless steel tanks with 20% of these being whole bunch. The wine is aged in untoasted foudre so that the final wine shows intriguing aromas of wild berries and herbs and a refreshing acidity.

Willunga 100 Blewitt Springs Grenache 2017  €31.95 - The aromatic grapes used to make this wine are grown in the Blewitt Spring area,  from a vineyard planted 80 years ago. Here you can find the ancient sandy soils unique to Blewitt Springs and some of the sub-region's oldest vines. This trophy-winner grenache is made in an unoaked, juicy style with lees ageing to enhance the floral aromatics of this varietal.


Chateau Coudray-Montpensier Chinon 2018  €19.95 - The bright and harmonious profile of this Chinon exemplifies the outstanding 2018 vintage in the Loire Valley. Sourced from a mixture of limestone, clay and sandy soils, this wine captures the sense of place and expressiveness of Cabernet Franc. A core of fresh, crunchy black and red fruit is enhanced by ripe, soft tannins and a long finish.


Frederic Berne Beaujolais Lantignie 'Granit Rose' 2019  €22.95 - Frédéric Berne is a leading example of organic viticulture in Beaujolais. His passionate belief that the diverse granitic soils of Lantignié are worthy of becoming Beaujolais' next Cru is reflected in his wines. Characterised by a lifted freshness, bright red fruit and supple tannins, the Granit Rose is sourced from various parcels on granitic and sandy soils which lend purity and elegance to the finished wine


Trinity Hill Hawkes Bay Pinot Noir 2018  €25.95 - Fruit for the 2018 Hawkes Bay Pinot Noir is sourced from the Porangahau and Waipawa vineyards in Central Hawkes Bay from vineyards which grow on limestone and sandy loam soils. A small portion of the fruit undergoes whole-bunch fermentation, resulting in a wine with flavours of fresh raspberry, plum and brambly spice with soft, velvety tannins which will develop complex forest-floor and earthy characters with bottle age.
Alter Alter Ribeiro Tinto 2018  €23.95 - An intriguing blend of Ribeiro's local varieties, Sousón (60%) and Brancellao (40%). Sousón lends deep colour and structured acidity to the blend, while the more ethereal Brancellao provides floral perfume. The palate is expressive with vibrant cherry tones, and notes of liquorice and spice. Lively acidity and chalky tannins lead to a refreshing finish.

Gallina de Piel Roca del Crit 2017  €28.95 - This elegant and versatile red is a blend of 86% Carignan and 14% Grenache. The Carignan is sourced from the Rabós area of Empordà, Cataluña. This area is known for 'the tramuntana', a strong wind which blows from the North. It often reaches 120 kilometres per hour, tempering the warm Mediterranean climate. The vines are 86 years old and planted on slate soils, resulting in low yields of concentrated berries with juicy acidity, and the lifted aromas of red cherry, violet and rosemary.