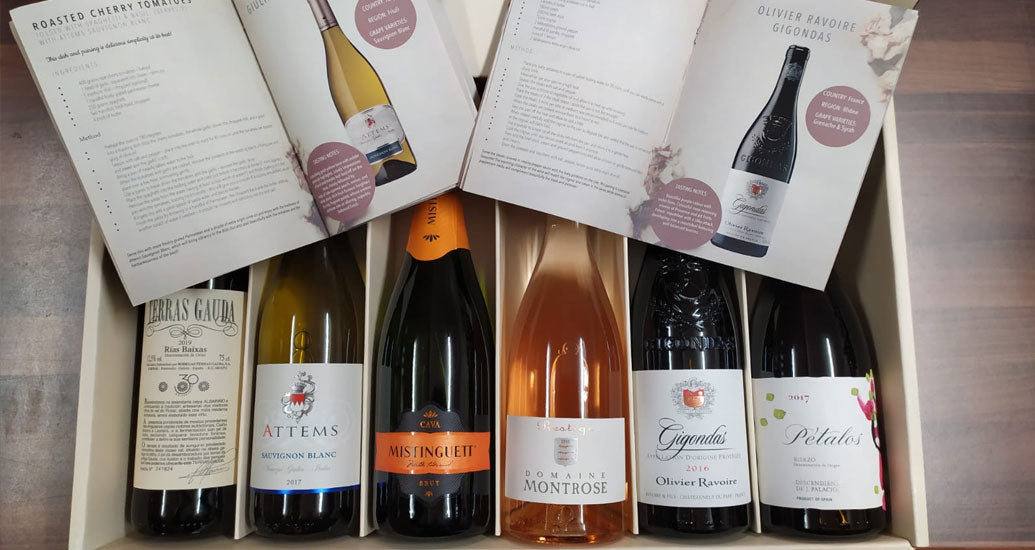 Cook up a storm this weekend with our brand new home dining case & free recipe book
The Bank Holiday is approaching and it's gorgeous out, which means it's perfectly acceptable to start thinking about wine, especially wine for the long weekend. And similar to the last two bank holiday weekends, most of us will be spending it at home. Instead of firing up the BBQ and spending it with friends and family, we will have to find a different way to fill the hours.
We've noticed that during this pandemic, people are spending a lot more time cooking (and drinking) in their homes and we are quite often asked about food and wine pairings. We are delighted to present you with our new "Home Dining Case". Not only does this case boast a beautiful selection of high quality wines, it also contains a bespoke booklet, with suggested pairings, and a complete recipe for a stunning dish to complement each wine.
I know from experience it can be hard to stay imaginative when it comes to meal time, and most of us want to get in and out of the shops as quickly as possible these days, which means we're not really browsing for inspiration. This stunning recipe booklet gives you a full list of ingredients required and has step by step instructions for the food prep and cooking. With 6 different recipes, we reckon this Home Dining Case is just what's needed for the long weekend.
Just remember, if you are going to enjoy a glass while prepping, don't forget to leave enough in the bottle so you can actually drink with your meal! Or order a couple of extra bottles, if you already know that's unlikely to happen!
When this lockdown is finally over, you'll be able to match these wines to food like a pro!!
The Wines
Terras Gauda O Rosal Albarino - On the palate it combines character and originality, with a classic body and distinct fruitiness. Succulent and dense, it is brimming with elegant, creamy sensations.
Attems, IGT Venezia Giulia, Sauvignon Blanc - A sparkling gold-yellow tone with subtle greenish highlights. Lovely impressions of basil and tomato leaf lead off on the nose, closely followed by notes of late-ripened peach, melon, and white plum. Rich fruit flavours heighten its crisp, fragrant palate, whose aromas continue into an alluring, superbly balanced finish.
Mistinguet Cava Brut Reserva - Creamy fruity & well structured. Also delicious with crisps if you were waiting on the barbecue to heat up.
Domaine Montrose Prestige Rosé - Complex nose of ripe citrus fruits, mandarin, spices. Full and delicate mouth, very elegant.
Oliver Ravoire, Gigondas - Beautiful purple colour with violet hues. Colourful nose releasing aromas of Provence and pit fruits. Potent mouthfeel with a silky attack, developing into a mouthfeel featuring well-balanced tannins.
Petalos Del Bierzo - Mencia is often light to medium in body but boasts deep, focused dark fruit. Petalos ups the ante, coaxing remarkable complexity. The fruit is offset by earthy and vegetal notes. Lean tannins almost go unnoticed, but provide a sturdy backbone.