Oh what a night.  We had a full house for our recent Ornellaia tasting dinner and a fantastic night was had by all. We were delighted to welcome our guests, including fashionista Bairbre Power from the Irish Independent, Leslie Power, food and wine writer with the Irish Examier, Marie Claire Digby, journalist and food writer at The Irish Times, Corinna Hardrave, food writer for The Sunday Times, wine writer for The Independent. We even had Sel and Patrick all the way from Forthright Winery in California.  Master of Wine Mick O'Connell presented the wines and Nicola from TwoCooks, Sallins prepared 7 mouth watering courses to complement the wines.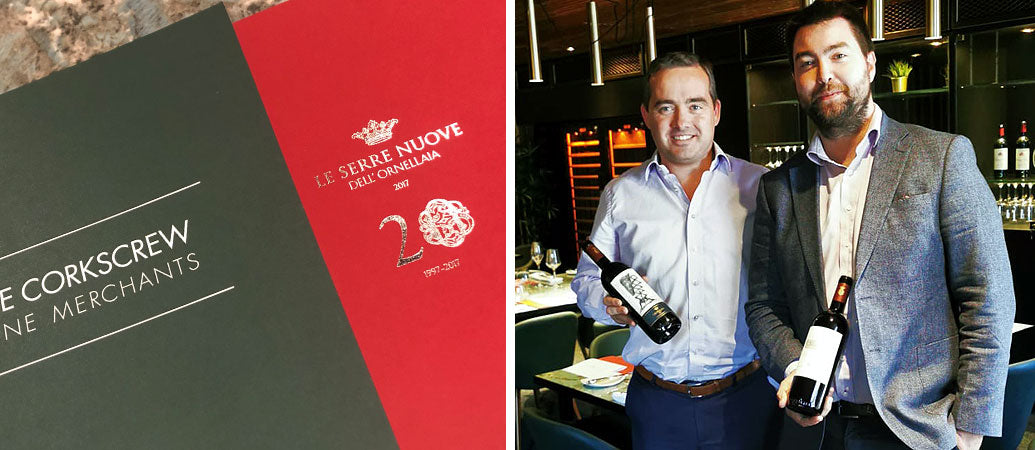 On arrival our guests received a glass of Drappier NV, a champagne exclusive to us. This was the first talking point of the evening. Tomasz served it from Magnums and then the cameras came out. The majority of our guests hadn't tasted this before and were all very pleasantly surprised, especially when they learned that it contains such low levels of sulphur dioxide, meaning their hangover wouldn't be as bad as they had previously expected. The Drappier was flowing while the bread and dips were devoured and then out came the 1st course of Narstatium and Oyster Mayonnaise which was picture perfect and went beautifully with the champagne.
Mick the Master then took to the stage to introduce the first wine from Dell'Ornellaia and give us a little background information, he didn't bog us down with too much detail and advised we check google for the technical stuff! He did mention that the last shipment of Ornellaia had seen a few cases stolen before they landed in Dublin but thankfully our allocation was untouched, with news of a similar story happening with Sassicaia for the second year in a row, one would have reason to question the transportation of the wines from A to B.
The first wine was poured, a beautiful glass of Poggio alle Gazze 2015 (last Wednesday there were only 10 bottles of this available). This was served alongside a dish containing scallop, cucumber, cucamelon and buckwheat!! A very interesting dish and a great pairing.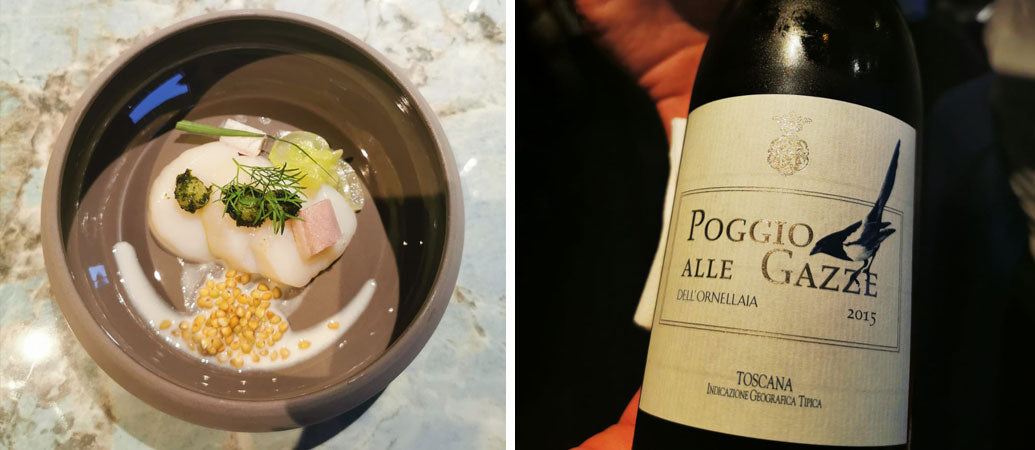 Then came the first red, Le Volte dell'Ornellaia 2016, a soft juicy red wine, an ideal wine for everyday enjoyment. This was matched with a Heritage Tomato dish, which had many other magnificent ingredients such as tomato foam, dashi and my favourite part, the basil crumb.
Next out was a potato dish, compromising of Potato, Pickled Onion, Nutritional Yeast and Hering Caviar. We tried two vintages of Serre Nouvo alongside this, the 2015 and the 2016. One of our guests described the 2015 as lovely seductive Marilyn Monroe, while it was suggested that the 2016 still had its knickers on and would benefit from a second date! There's a description that won't be forgotten quickly.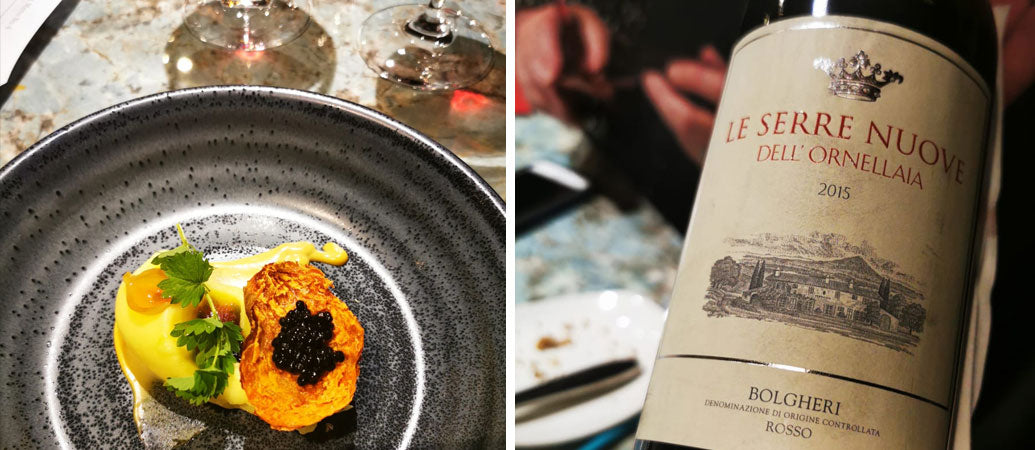 There was just about enough time to adjust belt buckles and buttons before course number five appeared. Duck with Beetroot, Mustard Leaf and Cyprus Cones, aromas of Christmas tree filled the room. This dish was paired with the very top wine of Ornellaia, the 2015, it was the star of the night. A match made in heaven, both of which tasted like more.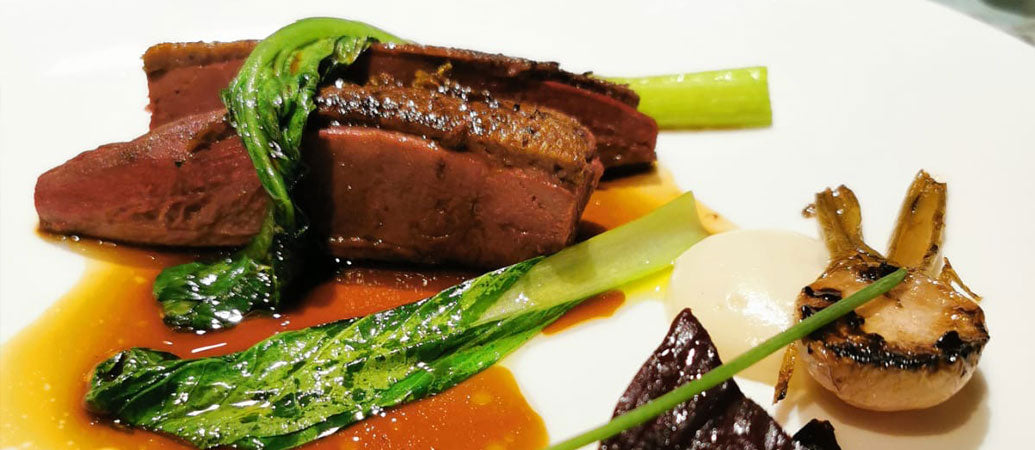 What came next was new to me, a dessert wine from Ornellaia called "Ornus", a stunning bottle beautifully presented in its' own little box. Absolutely delicious, we only have seven bottles as it is only produced in certain years when conditions are perfect. It was accompanied by a Baked Apple Crème Pat.
Our guests left in flying form and with full bellys. The tidy up could wait until Thursday!