Come See What's Just Landed
We're absolutely delighted to let you know that some of our Christmas gifts have started landing in the warehouse. Our most recent arrivals are certainly drawing attention to themselves, and we're sure they'll soon be a feature in many kitchens across the Country.
Champagne always makes a great gift, but when presented in a collector's box, it's a sure way to leave a lasting impression any time of the year. With Global Champagne Day coming up on October 28th, we don't expect these to be around for long.
As these collector's pieces are limited, no further discount applies.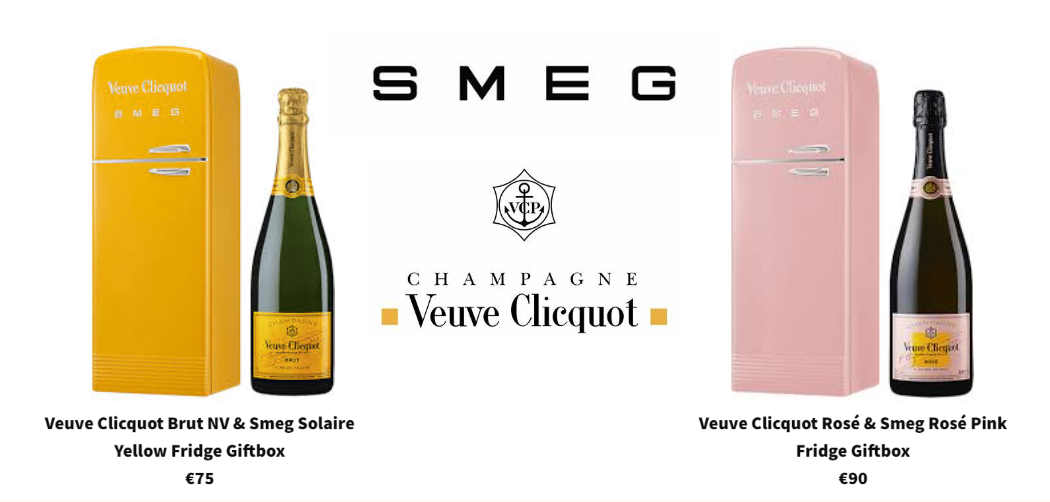 To celebrate the Maisons 250th anniversary, Veuve Clicquot have partnered with the pioneering Italian brand Smeg to fashion this retro-style mini fridge gift box 13 years after their last collaboration. The Clicquot Fridge is a bold insulated box inspired by refrigerators from the 1950s. In solaire yellow and rosé pink, emblematic colours of Veuve Clicquot, it embodies the creative spirit of the House and its ability to reinvent everyday objects to transform them into objects of desire.
The fridge is  plastic-free and constructed in recyclable tin, with a removable wedge made from 100% sugarcane waste so that it can be upcycled to enjoy a second life as a designer box. It also keeps a bottle cold for 2 hours!!
Inside the "solaire yellow" fridge gift box, you will find a bottle of world-famous Veuve Clicquot Yellow Label Champagne which you can check out on this link.
And inside the "rosé pink" collectors box, you will find a bottle of the first known blended Rosé Champagne ever - Veuve Clicquot Rosé - which can be viewed here.