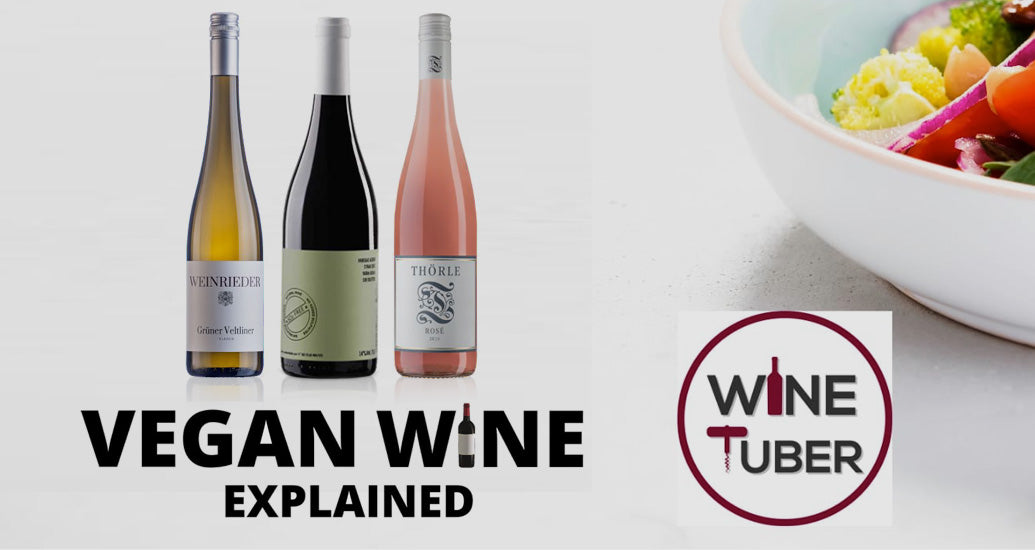 Over the last few years there's been an increasing trend in Vegan and Vegetarian diets which is no surprise considering that for quite a while now we've been hearing how going meatless at least once a week has health benefits for us and the planet. Many are opting for Meatless Monday's and as a result, we have recently seen an increasing demand for vegan and vegetarian wines. But did you know that your wine may not be vegan friendly? You'd be forgiven for thinking all wines are vegan or at least vegetarian-friendly considering they're made from grapes, but that is not the case.
After a wines first fermentation (this is where the sugar is converted to alcohol using yeast) the wine looks cloudy and contains sediment. In order to make it look more appealing it goes through a process called fining. This is where the winemakers remove unwanted materials in the wine that affect it's appearance and taste. A number of animal by-products can be used in this part of the winemaking process. The most common are egg whites, casein, isinglass (fish bladders) and gelatin. These products are filtered out of the finished wine but the fact they were used prevents the wine being marketed as Vegan.
However some winemakers choose to use alternative fining agents such as Betonite, vegetable protein, silica and kaolin (another type of clay) and some don't fine at all. This takes more time though and is a luxury some winemakers don't have. There are 2 types of Vegan wine, Certified Vegan and Vegan Friendly. You will see the Vegan Certification on the label of the Certified Vegan wine but for the friendly the information may be harder to find and it can also change from vintage to vintage.
If you want to be certain your wine is vegan friendly check out our full selection here, with over 130 to choose from there's definitely something for everyone. Some of our favourites which are perfect for Meatless Monday can be checked out below.
Weinrieder Gruner Veltliner Klassik €19.95 - If you've ever wondered what all the hype is around this superstar Austrian grape, then this is the one to try, Not only is it vegan friendly, it's an absolute drinking pleasure.  A dry fresh and sparkling wine with the distinctive spicy Veltliner Taste. It is classic and delicately spicy, the typical "peppery"
 In Austria 'Klassik' designates a wine made with stainless steel and no oak, to preserve the freshness of the fruit, and this is a benchmark Weinrieder wine - it has enjoyable acidity and pure fruit flavours.
Thorle Rose, Rheinhessen, Germay €19.95 Prepare to be amazed by this super impressive new German wine from this Rheinhessen estate which is managed organically and being taken in a biodynamic direction.  It's zingy and delicious, a staff favourite, No frills. Crystal clear, pure aromas, delicious berries, fine and elegant, handy and precise on the palate with a stunning freshness. An absolute jewel.
Bodegas Aessir, Organic Syrah €21.95 100% natural wine. If you want to feel really good about your choice of wine, this will tick all the boxes. It's certified vegan, organic (Something worth bearing in mind is that just because a wine is organic does not necessarily mean it is vegan as well.) Another great thing about this wine is that there are no added sulphites so your head will definitely thank you for choosing this. It's also absolutely delicious, lively, juicy and really fruity.